ACCORDION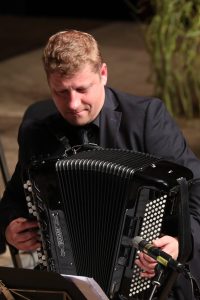 Ruslan Maximovski is a young committed accordion virtuoso born in Zhitomir/Ukraine. At the age of 6 he attended the school of music and learned to play the button accordion.
After only 4 years he became a prize winner of the competitions for young accordion players. At the age of 14 Ruslan Maximovski went to the music secondary school.
After graduating extremely successfully, he first worked as a soloist and conductor in the ensemble "The folklore company of national rites Rodoslaw" and gave concerts in renowned concert halls (including the National Palace of Arts "Ukraine").
After his studies at the Folkwang Hochschule Essen, he worked
as a teacher at various music schools.
His musical versatility is also demonstrated by his participation in various ensembles from tango, classical music to jazz.