CLARINETTE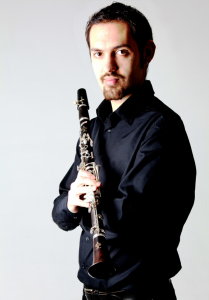 Drilon Ibrahimi, born 1991 in Mitrovice – Kosovo, received his first clarinet lessons at the age of nine at the School of Music in Pristina (Kosovo). He continued his education in Pristina at the secondary school for music. During this time he won the first prize at the Youth Music Competition in Kosovo (2008) and the third prize at the international competition "Ilija Nikolowski-Luj" in Macedonia (2007).
In 2009 his music studies took him to Germany. In the summer of 2013 he completed his diploma studies at the Musikhochschule Münster with Prof. Werner Raabe, main subject clarinet. In 2015 he finished his artistic master studies. Since March (2012) scholarship holder of Yehudi Menuhins Live Music Now – Münster. He has worked with various international composers of our time, including Luca Lombardi (Israel), Rubens Ricciardi (Brazil), Younghi Pagh-Paan (South Korea).
In 2015 he played for the German Radio.
He performs as a soloist in various chamber music ensembles and as an orchestra musician.
In January 2019 – recording released by the music label Naxos, with a chamber music work by Antonio Ruiz-Pipó.